1

/

1
Picture by:
Allrecipes
Carrot and fresh coriander soup
Ingredients
Serves:
6
1 tablespoon of olive oil

4 large carrots, peeled and roughly chopped

1/2 large onion, roughly chopped

900ml (1 1/2 pints) vegetable stock

large bunch fresh coriander, roughly chopped
---
Method
Prep:

5

min › Cook:

15

min › Extra time:

5

min › Ready in:

25

min
Heat the oil in a large saucepan over medium heat.

Saute the carrots and onion for a few minutes until the onion has softened a little.

Pour in the vegetable stock and add the coriander. Bring to the boil, and cook until the carrots are tender, about 10 minutes.

Remove from heat and allow to cool slightly.

Puree the soup until smooth, using a hand blender or food processor. Reheat before serving if necessary. Serve with crusty bread.
Video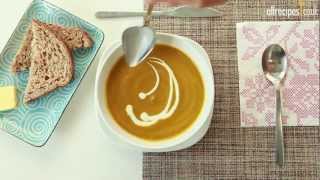 Carrot and fresh coriander soup
More choices
Similar recipes

Vegetarian

More collections
Reviews
(59)
I used chicken stock in this recipe as I didn't have any vegatable stock. It was absolutely delicious! :D - 22 Jan 2012
Made this yesterday, it's a very delicious soup! I added a few more carrots, a full onion and some celery. It was lovely and thick and very very filling! - 10 Nov 2012
Used different ingredients. I didn't have any fresh coriander so I used dried coriander leaves instead. Still tasted very good. I also cooked the soup for another 5 mins. before pureeing because the carrots weren't soft enough - 05 Nov 2010
Write a review
What did you think? Tell us everything!