!– Oracle Maxymiser Script Start --> <!– Oracle Maxymiser Script End -->
< />
Pressure cooker lamb tagine
This tagine recipe is done in no time thanks to the pressure cooker, perhaps one of the most under-utilised kitchen tools! Serve this lamb tagine with couscous or bulgur for a fantastic Moroccan feast.
Ingredients
Serves:
6
salt and pepper to taste

500g prunes, stones removed and soaked in water

1 teaspoon ground cinnamon

100g flaked almonds

1 tablespoon sesame seeds
---
Method
Prep:

15

min

› Cook:

50

min

› Ready in:

1

hr

5

min
Add the oil to the pressure cooker over medium heat. Add the lamb and cook for a few minutes until browned. Add the garlic, onions, ginger and saffron. Season with salt and pepper. (See footnote if you wish to add liquid at this point.) Close the pressure cooker and cook for 30 minutes after it start to whistle.

Cool down for 10 minutes and then open the pressure cooker, add the prunes and cinnamon and cook for 20 more minutes after it starts whistling.

Sprinkle with sesame seeds and almonds before serving.
Tip
For a juicier tagine with more sauce, feel free to add up to 500ml of lamb, beef or chicken stock to the pressure cooker from the beginning. If there's too much sauce for your liking, simply reduce by simmering with the lid off at the end.
Video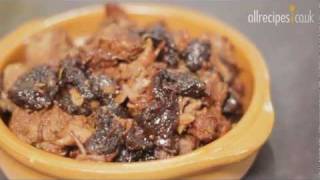 Pressure cooker lamb tagine
Reviews & ratings
Average global rating:
(11)
Reviews in English (6)
I've just got my pressure cooker and I wanted to try this recipe to 'christen it'. I don't understand why there's no liquid included. Isn't that dangerous? - 06 Jun 2011
Yes it is dangerous! I think looking at the timings that you need at least 1/2 pint ( 300 mls ) of stock or water. Then maybe a top up for the 20min cook, say 1/4 of a pint ( 150 mls ) You will have to use your judgement for this one. There might be enough liquid. It would have been helpful if the cook had said how much he used. - 16 Sep 2012
This recipe NEEDS liquid - it's not mentioned in the recipe and not shown in the video but I have a badly burned pan full of meat and prunes to prove that this recipe does not work as presented. - 02 Nov 2013
See reviews from:
Write a review
Click on stars to rate