1

/

1
Picture by:
Allrecipes
Roast leg of lamb with garlic and rosemary
Ingredients
Serves:
12
4 cloves garlic, sliced

fresh rosemary sprigs

salt and freshly ground black pepper to taste

1 (2 to 3kg) whole leg of lamb
---
Method
Prep:

10

min › Cook:

1

hr

20

min › Ready in:

1

hr

30

min
Cut slits in the top of the leg of lamb every few inches, deep enough to push slices of garlic down into the meat. Salt and pepper generously all over the top of lamb, place several sprigs of fresh rosemary under and on top of the lamb.

Roast at 180 C / Gas mark 4, until the lamb is cooked to medium well. Do not overcook; the flavour is best if meat is still slightly pink.
Tip:
As a rule, roast a leg of lamb for 15 minutes per 500g (1 1/4 lb), plus 10 minutes more. Allow it to rest for a good 15 minutes before serving to ensure the juices redistribute, making a perfect roast.
Shortcut
Pushing sliced garlic into a leg of lamb can be time consuming. Make this recipe even easier by chopping the garlic and sprinkling it over the lamb along with the rosemary leaves, salt and pepper.


Video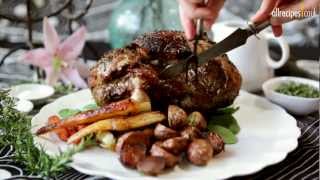 Roast leg of lamb
More choices
Similar recipes

Lamb

More collections
Reviews
(8)
by zmo
Something else. very easy I made this leg of lamb for a party. I roasted my piece of lamb on 200 for one hour to brown, then added about a pint of water and covered the lamb, turned down the temp to 140 and let it slow cook for about 3 hours. 45 mins before it was done I added small new potatoes and 1 large onion sliced. I let it rest for about 20 mins before slicing. It was so tender you could cut it with a fork. I made a gravy out of the juices that were left. - 21 Jul 2008
by nora muhammad
This simple way of roasting lamb is pretty much an institution in Australia.. its THE special family meal and there's nothing to compare. One important point though, unlike roasting a chicken,it's important to turn the leg over approx. half way through the cooking time (trust me on this, I have probably done this hundreds of times over 35 years). So, its a good idea to put the slits (stuffed with slivers of fresh garlic and sprigs of fresh rosemary) on both sides of the leg. Rub lightly with olive oil and throw in the oven. - 21 Jul 2008
by MANXGIRL
Used different ingredients. I made this tonight for dinner and it was just wonderful! I rubbed olive oil on the lamb before adding the spices and used dried rosemary instead of fresh. I also cut slits in both the top and bottom of the leg of lamb for the garlic and used more garlic. For a 2.25kg leg of lamb, I roasted it uncovered at 180 for 2-1/2 hours. - 21 Jul 2008
Write a review
What did you think? Tell us everything!