!– Oracle Maxymiser Script Start --> <!– Oracle Maxymiser Script End -->
< />
Ingredients
Serves:
6
5 medium sour apples

juice of 1/2 a lemon

150g caster sugar

1 teaspoon cinnamon

1 teaspoon vanilla sugar

1 tablespoon flour
20g butter

80g raisins or sultanas

3 to 4 sheets filo pastry

1 egg beaten with 3 tablespoons milk

Icing sugar for dusting
---
Method
Prep:

15

min

› Cook:

25

min

› Ready in:

40

min
Preheat oven to 220 C / Gas 7. Butter a baking tray, or line with baking parchment.

For the filling, peel the apples and cut into quarters, core, then cut into thin slices. Drizzle with lemon juice.

Mix the caster sugar, cinnamon, vanilla sugar and flour in a small bowl. Add the flour mixture to the apples with the vanilla sugar. Stir everything well. Add the raisins.

Lay a filo sheet on your work surface and brush with melted butter. Top with a second sheet, then brush with butter again. Repeat with the third and fourth sheets.

Place the filling lengthways across one edge. (If there is too much filling, don't use it all.) Roll up the strudel, starting with the side with the filling and working across to the other side. Brush the entire strudel with the egg-milk mixture, then seal the ends. Transfer to the prepared baking tray.

Bake the strudel in the middle of the oven for 25 minutes, until golden brown.

Leave to cool for at least 20 minutes before cutting. Dust with icing sugar just before serving. Enjoy!
Video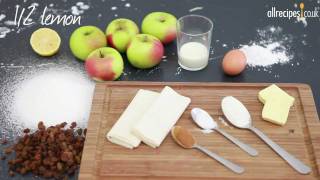 Easy apple strudel
Reviews & ratings
Average global rating:
(7)
Reviews in English (3)
Very easy and lighter than other apple strudels. Many thanks for a lovely recipe - 20 Sep 2012
Followed the receipe, but found had to use double the amount of butter for the layers. It was a very easy receipe to follow. Used 4 layers of filo. It is really easy,and tasted better than anything you can buy. Going to try again, but this time am going to use pecan nuts and maple syrup, to see how it works. - 17 Sep 2013
Nice easy recipe but I had far too much filling - checked twice to make sure I hadn't misread it - could get by with half. - 12 Oct 2014
See reviews from:
Write a review
Click on stars to rate