!– Oracle Maxymiser Script Start --> <!– Oracle Maxymiser Script End -->
< />
Banoffee crêpes
These decadent crepes incorporate everything you love about banoffee pie into a neat little parcel. You can make your own toffee sauce from condensed milk, if desired, but shop-bought works a treat and saves time.
Ingredients
Makes:
6

crepes
100g (4 oz) plain flour

1/2 teaspoon caster sugar

1/4 teaspoon salt

225ml (8 fl oz) semi skimmed milk

1 egg

Filling

6 digestive biscuits, crushed

3 bananas, sliced

6 tablespoons good quality shop-bought toffee sauce
---
Method
Prep:

15

min

› Cook:

5

min

› Ready in:

20

min
Combine flour, sugar and salt in a bowl. Make a well in the centre of the flour and add the milk and egg. Beat well to combine.

Heat a lightly oiled frying pan over medium high heat. Pour the crêpe batter onto the pan, using approximately 60ml (2 fl oz) for each crêpe. Tilt the pan in a circular motion so that the batter coats the surface evenly.

Cook the crêpe for about 2 minutes, until the bottom is light brown. Loosen with a flexible spatula or fish-slice, flip over and cook the other side.

For the filling, as the crepe is cooking on the final side, add 1 tablespoon of toffee sauce, banana slices and digestive biscuit crumbs. (Add concentrated on one half of the crepe; it'll be easier to fold.) Gently fold the crepe into a triangle. Repeat with remaining crepes.

To serve, garnish each crepe with a generous dollop of whipped cream, then sprinkle with chocolate shavings and digestive crumbs. Enjoy!
Pancake how-to
Forget flops with our collection of Pancake videos! We'll show you how to make everything from traditional pancakes to savoury crepes, and more. Watch now!


Video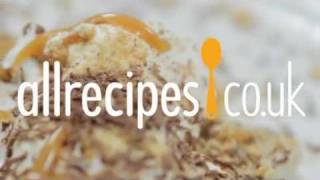 Three ways with crepes
Reviews & ratings
Average global rating:
(0)
Reviews in English (0)
Write a review
Click on stars to rate