1

/

1
Picture by:
Allrecipes
Best moussaka
Ingredients
Serves:
8
4 aubergines, cut lengthways into 1cm thick slices

salt

950ml milk

110g butter

6 tablespoons plain flour

salt to taste

3 egg yolks, beaten

7 tablespoons olive oil

2 onions, grated

3 cloves garlic, finely chopped
500g lean minced beef

1/2 teaspoon ground allspice

1 pinch ground cinnamon

1/2 teaspoon sugar

salt and pepper to taste

400g passata

4 tablespoons chopped fresh parsley

1 egg white, lightly beaten

120g freshly grated Parmesan cheese
---
Method
Prep:

45

min › Cook:

1

hr › Extra time:

20

min resting › Ready in:

2

hr

5

min
Sprinkle the aubergine slices with salt and place in a colander set in a sink or over a plate. Let the aubergine rest for 30 minutes to 1 hour, so that the bitter juices drain.

Meanwhile, make the béchamel, begin by scalding the milk in a saucepan. Melt the butter in a large frying pan over medium heat. Whisk in flour until smooth. Lower heat; gradually pour in the hot milk, whisking constantly until it thickens. Season with salt. Remove from heat and allow to cool slightly, then gradually whisk in the beaten egg yolks. Set aside till needed.

Once the juices have drained from the aubergine, rinse the slices, squeeze and pat dry with kitchen paper.

Heat 3 tablespoons of olive oil in a large frying pan. Fry the aubergine slices on each side till lightly browned. Set aside on a plate lined with kitchen paper to drain excess oil.

Preheat the oven to 190 C / Gas 5. Grease a 22x33cm (9x13 in) baking dish with olive oil.

Heat the remaining 4 tablespoons of oil in a large frying pan over low heat. Cook the grated onion until soft, about 4 minutes. Add the garlic and cook a further minute. Increase the heat to medium-high and add the minced beef. Stir and cook till browned, about 5 minutes.

Add the allspice, cinnamon, sugar, salt, pepper and passata to the minced beef mixture. Bring to a simmer and cook until the mixture is dry and all of the excess liquid has evaporated, about 15 to 20 minutes. At the end of cooking, stir in the parsley and remove from heat. Allow to cool slightly, then stir in the egg white.

Arrange a layer of aubergine in the baking dish. Cover aubergine with all of the meat mixture, and then sprinkle 1/3 of the Parmesan cheese over the meat. Cover with remaining aubergine, and sprinkle another third of the cheese on top. Pour the béchamel over the top, and sprinkle with the remaining cheese.

Bake for 45 minutes to an hour, until the top is set and golden. Let rest at room temperature for 20 minutes before slicing and serving.
Make it healthier
Pre-cooking the aubergine is essential, but instead of frying the slices, you can lightly brush with olive oil on both sides, place them in a single layer on a baking tray and bake them in a 200 C / Gas 6 oven, turning once halfway through.
You can lighten the meat sauce by using 250g minced pork and 250g minced beef instead of all beef.


Video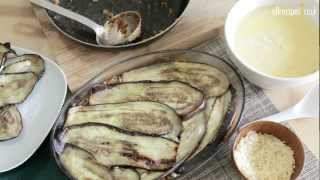 Moussaka
More choices
Similar recipes

Beef

Greek recipes

More collections
Reviews
(1)
My son helped me in the kitchen (I'm teaching him to cook) and we had a great time together making this recipe. I recommend cutting the eggplant thicker (1/2 inch) or overlapping them in the baking dish to give a good thick layer. Next time I will cut the butter and olive oil by about 2 TBL each (it was a bit oily and heavy for our tastes) and increase the Parmesan cheese and salt a bit. We used ground lamb and I used the suggested option to bake the eggplant. I couldn't find passata so I used Poni tomato puree and it worked very well. I can't wait to heat up leftovers for dinner tonight. - 17 Jun 2013
Write a review
What did you think? Tell us everything!