Yoghurt cheese
Yoghurt cheese
Method
Prep:

5

min

› Extra time:

12

hr

resting › Ready in:

12

hr

5

min
Line a colander or sieve with muslin or cheesecloth. Set over a large bowl.

If using salt, stir together the yoghurt and salt. Spoon the yoghurt into the muslin-lined colander. Fold over the muslin and twist the ends well. Let the yoghurt drain for 12 to 24 hours at room temperature.
Ideas
For a savoury spread, take the finished cheese and stir in some chopped fresh herbs and more salt to taste. For something sweet and delicious, drizzle the finished cheese with nuts and honey.


Video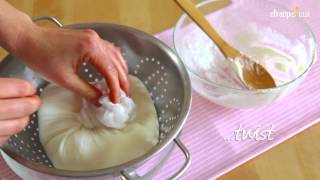 Yoghurt cheese
Reviews (0)
Write a review
Click on stars to rate