!– Oracle Maxymiser Script Start --> <!– Oracle Maxymiser Script End -->
Caramel soufflé and apple ice-cream
< />
Caramel soufflé and apple ice-cream
Caramel soufflé and apple ice-cream
About this recipe: My take on a caramel apple that is much easier than it looks and it's gluten free! I hope you like it. It really is worth a shot. Especially because both ice-creams and soufflés are usually difficult to make but these ones really are not so you'll look totally badass!
Ingredients
Serves:
6
For the souffle

2 tablespoons butter, melted

2 tablespoon cocoa powder

7 eggs, separated

1 can caramel
---
Method
Prep:

20

min

› Cook:

16

min

› Extra time:

6

hr

freezing › Ready in:

6

hr

36

min
For the ice cream:

Whisk the cream, condensed milk and apple liqueur until resembling whipped cream and freeze for at least 6 hours but preferably overnight.

For the souffle:

Preheat the oven to 200 C / Gas 6.

Brush the insides of 6 large ramekins (see footnote) with half of the melted butter and put them in the fridge for 10 minutes. After 10 minutes, give them another brushing of melted butter and dust the insides with the cocoa.

Mix the egg yolks with the caramel until smooth and combined. Whisk the egg whites until stiff and satiny and gently fold into the yolk/caramel mixture keeping as much air in the mix as possible. Divide the mixture equally between the 6 ramekins.

Bake for 16 minutes until risen and firm to the touch then remove from the oven and serve warm with the ice-cream.
Ramekins
Ramekin sizes vary. Mine are big at 200ml capacity. If yours are a regular size, bake for 13 minutes.
See it on my blog
Video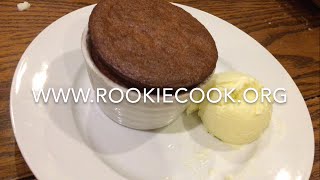 See the video
Reviews & ratings
Average global rating:
(0)
Reviews in English (0)
Write a review
Click on stars to rate