1

/

1
Picture by:
Allrecipes
Molten chocolate cakes
Ingredients
Serves:
4
125g (4 1/4 oz) butter

1 (100g) bar good-quality plain chocolate

2 eggs

2 egg yolks

4 tablespoons caster sugar

2 teaspoons plain flour
---
Method
Prep:

20

min › Cook:

8

min › Ready in:

28

min
Preheat the oven to 230 C / Gas 8. Butter and flour 4 ramekins.

In the top half of a double boiler set over simmering water, heat the butter and the chocolate until chocolate is almost completely melted.

Use a hand held electric mixer to beat the eggs, egg yolks and sugar together until light coloured and thick.

While beating, slowly pour the chocolate mixture into the egg mixture, then quickly beat in the flour and mix until just combined.

Divide the mixture between the 4 ramekins and bake for 6 to 7 minutes. The centres of the cakes will still be quite soft. Turn ramekins out on serving plates and let sit for about 15 seconds, then unmould. Serve immediately with fresh cream, if desired.
Video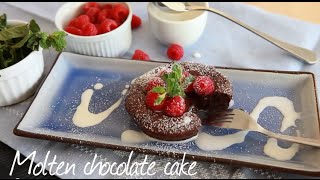 Molten chocolate cakes
More choices
Similar recipes

Cake

More collections
Reviews
(14)
by chellebelle
Oh my goodness!! These are rich, delicious and sinful! And EASY! I followed the recipe ingredients exactly. I saw a similar recipe that said it is ok to set aside and refrigerate the prepared batter for a few hours, just remove and allow to come to room temperature before baking. I made the batter before dinner and took it out of the fridge just as we sat down to eat. I put them in the oven as we finished the meal. The cakes still looked a bit wet after 6 minutes, so I left them 2 minutes longer. I'm not sure if this was because the batter was still a bit cold when I put them in. I used ramekins and they didn't unmould too well, the one I tried to umould split and oozed all over the plate, but they tasted just as good eaten from the ramekin rather than unmoulded. Another thing I discovered is that if you heat a leftover cake in the microwave for 30 seconds it bubbles up like a volcano and tastes nearly as good as fresh out of the oven! - 18 Jul 2008
These were fantastic. They took a bit longer to cook than mentioned above - closer to 15 minutes, and are very similar to a chocolate souffle. Not too sweet, but very decadent. Great with a bramble fool or compot. Do be sure to thoroughly grease and flour (even line with grease-proof paper) the bottom of the ramekins or they will not come out whole. (The molten center means weak walls in the middle). - 04 Apr 2009
by KORYMCDONALD
Unbelievable pudding. I made it for Valentine's Day and it was absolutely perfect. My partner, a true chocoholic and dessert connaisseur, said that it was one of the best desserts he ever had. I cooked it for 8-9 minutes, and it turned out great, but quite liquid in the middle - 10 minutes would be perfect. Use a good quality chocolate. - 18 Jul 2008
Write a review
What did you think? Tell us everything!