1

/

1
Picture by:
Allrecipes
Chocolate truffles
Ingredients
Serves:
10
120g unsalted butter

175g icing sugar

1 to 2 tablespoons cocoa powder

1 tablespoon whisky or rum

shaved chocolate or cocoa powder
---
Method
Prep:

30

min › Ready in:

30

min
Place the butter in a bowl with the icing sugar and mix until fluffy.

Add the cocoa and whisky or rum and continue to mix. (Adding more than 1 tablespoon of liquid will make it difficult to shape the mixture.)

Shape the mixture into small balls, then roll in shaved chocolate or cocoa powder individually, and place them on a tray. Refrigerate for 1 hour.
Video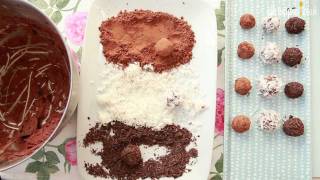 Chocolate truffles
More choices
Similar recipes

Sweets

More collections
Reviews
(5)
Altered ingredient amounts. allot more icing sugar - 04 Jan 2011
it's basically chocolate butter icing, there is no way you can roll these into truffles! - 09 Nov 2011
these are extreemly nice homemade sweets and i highly reccomened them. - 28 Dec 2010
Write a review
What did you think? Tell us everything!