!– Oracle Maxymiser Script Start --> <!– Oracle Maxymiser Script End -->
< />

< />

< />

< />

< />

< />

< />

< />

< />

< />

< />

< />

< />

< />

< />
Thai red chicken curry
Thai red chicken curry
About this recipe: This is a quick and easy curry made with chicken, courgette, red pepper and carrot. Coconut milk and curry paste make an irresistible sauce. No need to order in, as this dish is ready in about 20 minutes!
Ingredients
Serves:
4
2 teaspoons olive oil

450g chicken breast fillets, cut into strips

1 tablespoon Thai red curry paste

1 small courgette, halved lengthways and sliced

1 red pepper, sliced into strips
1 medium carrot, sliced

1 red onion, quartered then sliced

400g tin light coconut milk

1 tablespoon cornflour

2 tablespoons chopped fresh coriander
---
Method
Prep:

10

min

› Cook:

10

min

› Ready in:

20

min
Heat the oil in a large frying pan or wok over medium-high heat. Add the chicken pieces; cook and stir for about 3 minutes. Mix in the curry paste, courgette, pepper, carrot and onion. Cook and stir for a few minutes.

Whisk together the coconut milk and cornflour to dissolve, then add to chicken mixture. Bring to the boil, then reduce to a simmer over medium heat for 1 minute, or until thickened. Right before serving, stir in the coriander.
Tips
Feel free to add more or less curry paste according to taste. Serve with wedges of fresh lime for a tasty finish.
Video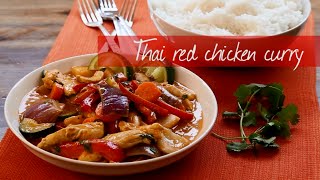 Thai red chicken curry
Reviews & ratings
Average global rating:
(446)
Reviews in English (336)
Something else. Added a red chili to give it a little kick - 08 Feb 2010
not spicy enough, use at least 3 spoons of red curry paste if you what a kick to it. - 15 Dec 2009
Nice and easy, but packed with flavour. - 01 Jun 2010
See reviews from:
Write a review
Click on stars to rate