!– Oracle Maxymiser Script Start --> <!– Oracle Maxymiser Script End -->
< />
Avoca scones
This is as close as I could get to matching the recipe for the delicious scones they serve at Avoca!
Ingredients
Serves:
15
1 egg, lightly beaten

50ml double cream

100 to 200ml milk, as needed

1 egg beaten with 1 tablespoon water to glaze
---
Method
Prep:

30

min

› Cook:

15

min

› Ready in:

45

min
Preheat oven to 180 C / Gas 4. Lightly grease a baking tray.

Sift the flour, baking powder and salt into a bowl and stir in the sugar. Using your fingertips, lightly rub in the butter until the mixture resembles dried breadcrumbs. Add the egg, cream and enough milk to moisten (start with 100ml, adding more if needed. Mix well until it has a soft, doughy texture - but it shouldn't be too moist.

Gather the dough into a ball and turn it out on to a floured surface, then roll lightly with a rolling pin to 2.5cm (1 in) thick. Cut out with a round cutter, transfer to greased baking tray and brush the tops with the egg glaze. Bake in preheated oven for 15 to 20 minutes or until well browned.
Video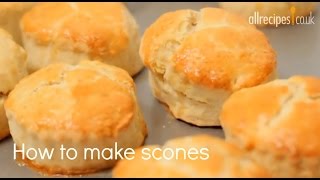 How to make scones
Reviews & ratings
Average global rating:
(11)
Reviews in English (12)
I'm no baker, and this was the first time I'd baked scones. I halved the measurements of the recipe for my trial run. Since it was going to be a bit tough to manage half an egg, I threw in a full small pullet egg, and compensated by throwing in a couple of tbsp of flour, and less than a tsp of sugar. I ended up needing less than the 100 ml milk that the recipe called for (halved from original), so be sure to not add it all at once. I made mine with fresh blueberries (just threw them in there in the final stages of kneading the dough). I also sprinkled coarse sugar on top just before sticking it into the oven. It took longer than 20 mins to brown them... I just played it by ear and added 2 mins at a time till they browned. Turned out great! - 14 Oct 2010
This is the best ever scone recipe I make them for our community centre coffee morning every month and everyone loves them. Sometimes I add sultanasor or washed glace cherries - 14 Aug 2011
I made these for my girlfriend and was very nervous in case they'd turn out like bricks but they were top class! Really rich tasting too. - 19 Feb 2009
Write a review
Click on stars to rate