Honeycomb with golden syrup
Ingredients
Serves:
10
4 tablespoons golden syrup

200g caster sugar

3 teaspoons bicarbonate of soda
---
Method
Prep:

5

min › Cook:

10

min › Ready in:

15

min
Grease a 20cm square cake tin or slice tray.

In a large saucepan, heat the golden syrup and sugar together, bring to the boil then simmer on low heat for 5-10 minutes. Cooking time will vary but test it by dropping a little syrup into water - it should become brittle when ready. Watch it doesn't burn.

Remove pot from heat and add the bicarb. Quickly mix it in because the mixture will foam up instantly. Pour immediately into the cake tin. Leave to set then break into bite size chunks.
Tip
Make your very own crunchie by dipping the pieces of honeycomb in melted chocolate, then letting them set on a piece of greaseproof paper!
Video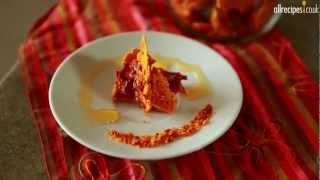 How to make honeycomb
More choices
Similar recipes

Sweets

More collections
Reviews
(23)
Made a half batch and results were excellent. My tips. I heated sugar/syrup to 160C and then whisked in bicarb off the heat. After 5 seconds I poured it out. Don't try to smooth it - leave it where it lands or it will collapse. Don't try to scrape remains from the pan - ditto. Put pan and utensils immediately into hot water and it all dissolves in a couple of mins and so no chiseling. Will try to choc coat some today! - 01 Jul 2012
Nice, but remained very chewy. Is there a way of drying it out? - 09 Aug 2011
Fabulous recipe. The trick is, as the recipe states, bring the toffee mixture to the hard toffee stage, by putting in a drop in some water letting it sit for a few seconds and tasting, if it crunches, it is ready to turn off the heat. This takes about 5 minutes, careful to not have the heat too high, just a low medium heat, just so it simmers, otherwise it will burn. When you add the bicarbonate, do it all at once, then when fluffy and fully mixed, put into large flat tray with baking paper. Don't try to smooth out, as the mixture will collapse. Let set, without touching. Yum. - 22 Aug 2012
Write a review
What did you think? Tell us everything!