!– Oracle Maxymiser Script Start --> <!– Oracle Maxymiser Script End -->
Mini Cheesecakes
Mini Cheesecakes
About this recipe: Easy and so good for Valentine's Day, Christmas, parties, weddings or whatever the occasion! Use your favourite biscuit in the base. You can also make these in regular muffin tins; just be sure to adjust the baking time.
Ingredients
Serves:
48
2 (200g) tubs cream cheese

150g (5 oz) caster sugar

2 eggs

1 teaspoon vanilla extract

350g crushed biscuit crumbs (shortbread, ginger nuts, digestives...)

1 (400g) tin fruit filling
---
Method
Prep:

15

min

› Cook:

15

min

› Ready in:

30

min
Preheat oven to 180 C / Gas 4. Line two 24-cup miniature muffin tins with paper cases.

Place 1/2 tablespoon of the crushed biscuits into the muffin tins.

Cream together with an electric mixer the cream cheese, sugar, eggs and vanilla. Fill each miniature muffin case with this mixture, almost to the top.

Bake in preheated oven for 15 minutes. Cool and then top with a teaspoonful of cherry (or any other flavour) fruit filling.
Video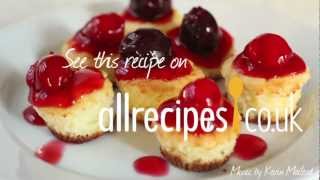 Mini cheesecakes
Reviews & ratings
Average global rating:
(332)
Reviews in English (258)
Easy and quick to make. Not the best cheesecake I have tasted but for speed and ease this recipe definitly delivers. Will be adding butter to the biscuit base next time though as it falls apart when you are eating it otherwise. Will be using this recipe agian with the tweak though! - 23 Sep 2010
These are so easy and so delicious, it almost seems too good to be true until you make them! Will make for all my parties, as guests loved them. Thx for the recipe! - 24 Nov 2010
came out great looking,smelling and tasting!!! but i did a grahm cracker base instead by using 1/3 cup grahm cracker crumbs 1 tbs melted butter and 1 tbs sugar - 30 May 2007 (Review from Allrecipes US | Canada)
See reviews from:
Write a review
Click on stars to rate