!– Oracle Maxymiser Script Start --> <!– Oracle Maxymiser Script End -->
< />

< />

< />

< />

< />

< />

< />

< />

< />
Bread machine pizza base
Semolina gives this pizza base more stability and a crispy, chewy texture when cooked.
Ingredients
Serves:
12
300ml (1/2 pint) warm water (45 C)

250g (9 oz) plain flour

175g (6 oz) semolina

1/2 teaspoon caster sugar

1 teaspoon salt

1 dessertspoon olive oil

1 dessertspoon dried active baking yeast
---
Method
Prep:

2

min

› Ready in:

2

min
Place all ingredients in the bread machine pan in the order suggested by the manufacturer. Select dough cycle.

Remove after rise cycle and use with your favourite pizza recipe.
Video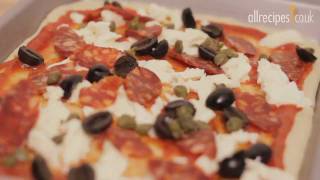 Bread machine pizza base
Reviews & ratings
Average global rating:
(152)
Reviews in English (120)
Something else. this was a great crust! the semolina makes a huge difference. I baked it at 200, and it was great. next time I will try 220, I like it browned. I dont have a bread machine and it turned out awesome. I froze the remaining dough and made calzones which were even better than the pizza. Ive already shared this recipe...thanks!! - 14 Jul 2008
Altered ingredient amounts. never used semolina in a recipe before but this made the pizza very golden and crusty - 01 Sep 2008
Just made this for the childrens lunch - easy to do and made plenty of dough. The base once cooked was crunchy and not too thick. A definate hit! - 15 Feb 2010
See reviews from:
Write a review
Click on stars to rate