Fresh Strawberry Ice Cream in a Bag
Ingredients
Makes:
2

small portions
250ml single cream

2 tablespoons caster sugar

1 teaspoon vanilla extract

4 tablespoons chopped fresh strawberries

4 scoops ice cubes

4 tablespoons coarse salt
---
Method
Prep:

10

min › Extra time:

10

min freezing › Ready in:

20

min
Combine the cream, sugar, vanilla and strawberries in a litre size resealable plastic bag. Press the air out of the bag, seal and shake bag to combine contents. Place the bag into a larger sized resealable plastic bag. Add the ice and salt to the larger bag, press the air out, and seal bag.

Wrap bags in a tea towel. Shake continuously, until the contents of the small bag thicken into soft ice cream, 5 to 10 minutes.

Rinse the small bag quickly under cold water to wash off salt. Lay the ice cream filled baggie on a flat surface. Use a wooden spoon handle to push the ice cream down to the bottom corner of the baggie. Snip off the corner, and squeeze ice cream into a bowl.
Other ideas
Try other mix-ins too such as crushed chocolate, chopped fudge or honeycomb.
Note
The salt is not consumed.
Video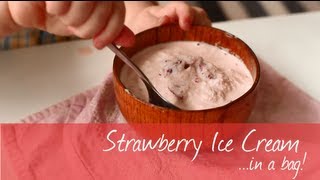 Strawberry ice cream in a bag
More choices
Similar recipes

Dessert

More collections
Reviews
(6)
Loved it! A perfect thing to do with family on a hot summer day! - 16 Aug 2011
Left out the sugar and used blackberries. Nice! - 16 Aug 2011
It only really makes enough for one big portion but we all managed to taste it. Will do it again when the weather warms up!! - 16 Aug 2011
Write a review
What did you think? Tell us everything!