1

/

1
Picture by:
Allrecipes
Chocolate beetroot cake
Ingredients
Makes:
24
250g well-drained, cooked beetroots, pureed

1/2 teaspoon vanilla extract

300g caster sugar

250ml vegetable oil

3 eggs
225g plain flour

1 1/2 teaspoons bicarbonate of soda

1/4 teaspoon salt

6 tablespoons unsweetened cocoa powder
---
Method
Prep:

20

min › Cook:

25

min › Ready in:

45

min
Preheat oven to 180 C / Gas 4. Grease and flour one 20x30cm (9x13 in) or similar sized baking tin.

In a large bowl, combine pureed beetroots, eggs, vanilla, oil and sugar. Mix with an electric mixer on low speed until well combined.

In a separate bowl, mix together flour, bicarbonate of soda, salt and cocoa. Add to the creamed mixture, beating together well. Pour batter into prepared tin.

Bake for 25 to 30 minutes until done. Cool and frost with your favourite icing.
Video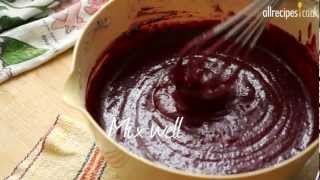 Chocolate beetroot cake
More choices
Similar recipes

Cake

More collections
Reviews
(26)
This cake is absolutely stunning. I will make this anytime I need a choc cake or cupcakes. So unbelievably moist! Absolutely no hint of beetroot. I pureed the beetroot in the blender along with the eggs and oil - the result was intensely pink, smooth and creamy. I then poured that out into a bowl and followed the recipe as stated from there. I pretty much followed the recipe to the letter, except I used olive oil instead of reg veg oil, and the result was fabulous. I made cupcakes and baked at the stated temp for about 18 minutes. Thanks! A gorgeous recipe! **Update** I made these a second time for my husband's birthday, and two different people told me they were the best chocolate cupcakes they had ever had! - 04 Mar 2011
I made this as cupcakes and they are delicious! I didn't have the werewithal to puree the beetroot so I just finely grated it, which worked just as well. Possibly a smidge too sweet, but amazingly moist (and I'm one who often has problems making moist cakes!) - 21 Aug 2011
I made these into cupcakes with a simple chocolate butter icing on top. They were lovely, so moist and light. Went down very well with hubby's work colleagues!! - 27 Feb 2012
Write a review
What did you think? Tell us everything!