1

/

1
Picture by:
Allrecipes
Homemade gnocchi
Ingredients
Serves:
4
2 potatoes

250g (9 oz) plain flour

1 egg
---
Method
Prep:

30

min › Cook:

30

min › Ready in:

1

hr
Bring a large pot of water to the boil. Peel potatoes and add to pot. Cook until tender but still firm, about 15 minutes. Drain, cool and mash with a fork or potato masher.

Combine mashed potato, flour and egg in a large bowl. Knead until dough forms a ball. Shape small portions of the dough into long "snakes". On a floured surface, cut snakes into 1.5cm (1/2 in) pieces.

Bring a large pot of lightly salted water to the boil. Drop in gnocchi and cook for 3 to 5 minutes or until gnocchi have risen to the top; drain and serve with your favourite sauce.
Video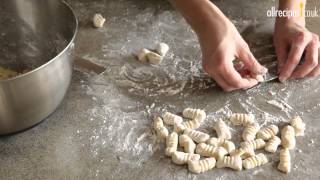 Homemade gnocchi
More choices
Similar recipes

Vegetarian

Italian recipes

More collections
Reviews
(7)
I dared not even begin to attempt this recipe as it calls for 2 potatoes with different potatoes weighing from a few grams to as much as half a kilo, I just don't have a starting point. I find the terms large/medium and small equally frustrating on recipes as this can differ hugely from one to another. - 25 Mar 2012
by squeaky6
Something else. Okay, I've never eaten a gnocchi before in my life, but from what I understand, the potatoes should be really finely mashed (by using a ricer or similar), and I have a suggestion to anyone wishing to get finely mashed potatoes: Use a mixer! I'm using a stand mixer but I've used hand mixers in the past to make whipped potatoes (I never had mashed potatoes growing up, they were always whipped with a mixer). I cooked 6 medium-large unpeeled potatoes in the microwave in batches of 3 for 7 minutes per batch (turning halfway through), and then I let them cool slightly and peeled them (accomplished more easily with some napkins and towels, the skins just sloughed off). Put them in my mixer bowl, added 3 TBS butter, some salt, pepper, garlic and nutmeg. Let them fully cool, then I added 2 eggs and mixed them in slightly with the beaters. By hand, I mixed and kneaded in the flour. I only used about 100g, and it seemed good, so I cooked a dozen little gnocchi up. They were way too squishy, so I kneaded about another 60g or so of flour into the remaining dough. I snaked them out, cut them, and put them on a greaseproof paper-lined baking tray. I then put the sheet in the freezer. Once frozen, into a freezer bag! I cooked some frozen ones up to make sure they're great, and they were pretty good with a mushroom pasta sauce! Thanks for a fun recipe! - 15 Sep 2008
by Anne-Marie
A great, basic gnocchi recipe. I like this served with a simple garlic butter sauce and some oregano, basil and black pepper. I might have an idea about why reviewers have disagreed on how much flour this recipe needs: It depends on how much water the potatoes absorb during cooking. If you boil them whole, they'll absorb a fair bit of water; if you boil them in chunks, they'll absorb even more. If you steam them, they'll absorb less, and if you microwave them, they'll absorb none at all. My suggestion: Start with 125g flour and add more to the potato mixture as you knead it until the dough is dry to the touch (but not so dry that it crumbles). - 15 Sep 2008
Write a review
What did you think? Tell us everything!