1

/

1
Picture by:
CHRISTA ROSE
Best pizza base
Ingredients
Serves:
15
2 1/4 teaspoons dried active baking yeast

1/2 teaspoon dark brown soft sugar

350ml (12 fl oz) warm water (45 C)

1 teaspoon salt

2 tablespoons olive oil

425g (15 oz) plain flour
---
Method
Prep:

30

min › Cook:

20

min › Ready in:

50

min
In a large bowl, dissolve the yeast and brown sugar in the warm water, and let sit for 10 minutes.

Stir the salt and oil into the yeast mixture. Mix in half of the flour.

Turn dough out onto a clean, well floured surface, and knead in more flour until the dough is no longer sticky. Place the dough into a well oiled bowl, and cover with a damp cloth. Let the dough rise until double; this should take about 1 hour. Punch down the dough, and form a tight ball. Allow the dough to relax for a minute before rolling out. Use for your favourite pizza recipe.

Preheat oven to 220 C / Gas mark 7. If you are baking the dough on a pizza stone, you may place your toppings on the dough, and bake immediately. If you are baking your pizza in a tray, lightly oil the pan, and let the dough rise for 15 or 20 minutes before topping and baking it.

Bake pizza in preheated oven, until the cheese and crust are golden brown, about 15 to 20 minutes.
Video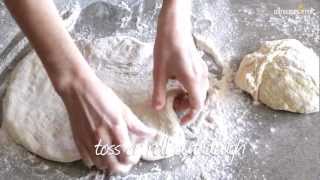 Best pizza base
More choices
Similar recipes

More collections
Reviews
(28)
by JOYCE
Something else. Jay thank you so much for an EXCELLENT thick pizza base, that was crisp on the outside and chewy/tender on the inside! The only additions I did were: I baked them for 10 minutes prior to adding the toppings, and both tins were olive oiled WELL, and dusted with polenta. They came out of the tin very easy onto the cutting board. It was easy to make this. Just have to adjust weather and flour consistency to the stickiness of the dough. Some days need less, some days need MUCH more. I never roll the dough out, I just use my hands and flatten it in the bottom of the tins, working up the sides. - 18 Jul 2008
by RAYNEBOW
Took shortcuts. I made this dough in my bread machine and it came out perfectly. The crust is crunchy on the outside and soft and tender on the inside. I did bake the crust about ten minutes before adding toppings and divided the dough to make smaller pizzas. - 18 Jul 2008
Altered ingredient amounts. Instead of plain flour, I used Rice flour as me and my family are coeliacs and I made sure the bowl was really oiled and added a bit more water and the base was AMAZING!!! Even though it was it bit more though because of the gluten free-ness, it was just as tasty. I had a 'pizza party' at my house but I did not want to be the odd one out so I made 2 large pizzas and could not tell much difference from actual pizza. I am sitting here, telling you about my experience while my belly full of pizza settles thank you :] - 25 May 2011
Write a review
What did you think? Tell us everything!