!– Oracle Maxymiser Script Start --> <!– Oracle Maxymiser Script End -->
< />

< />

< />

< />

< />

< />

< />

< />

< />

< />

< />

< />

< />
Best buttercream frosting
This is a wonderful buttercream frosting recipe, great for almost any cake out there. Perfect for those homemade birthday cakes or cupcakes for a school fete. Unlike most buttercream frosting recipes, this calls for caster sugar instead of icing sugar.
Ingredients
Serves:
18
225g butter, softened

200g caster sugar

4 tablespoons plain flour

250ml milk

1 teaspoon vanilla extract
---
Method
Prep:

15

min

› Cook:

10

min

› Ready in:

25

min
In small saucepan cook flour and milk until it forms a ball, stirring constantly. Cool to room temperature.

With an electric mixer, beat butter and sugar until fluffy.

Beat both mixtures together on high speed until fluffy and smooth. Add vanilla and beat until combined. Refrigerate for about 1/2 hour, until it is of spreading consistency.
Video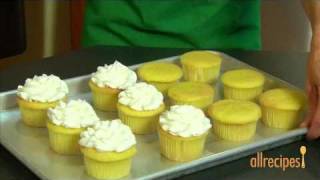 How to ice cupcakes
Reviews & ratings
Average global rating:
(526)
Reviews in English (479)
Really not impressed with this. I'm sure I'm doing it wrong, but I followed the instructions as stated. The milk and flour took well over 45 minutes to form a ball as described, and once it was cool it was a solid lump. Ended up with disgusting little lumps of chewy flour goo peppering the frosting, and it's all ruined. - 28 Aug 2012
This is probably the best frosting EVER, Super easy to make, so creamy that it could be cream. - 20 Aug 2011
omg this is divine!!!was afraid at first because of the flour but followed the recipe didnt change anything its so easy!! will be using this for everything that needs icing!!Thank u so much - 12 Jan 2012
Write a review
Click on stars to rate