!– Oracle Maxymiser Script Start --> <!– Oracle Maxymiser Script End -->
< />
Russian baked beef
Simple and delicious, this Russian baked beef takes tougher cuts and slow-cooks them in milk and cream till the beef is melt in the mouth tender. Similar to an oven-baked Stroganoff, you'll love the end result and how easy it is to get there.
Ingredients
Serves:
8
1kg beef joint, such as chuck or rump

1 onion, thinly sliced

salt and pepper to taste

125ml double cream

125ml milk

150g cheese, such as Gouda, grated
---
Method
Prep:

15

min

› Cook:

1

hr

30

min

› Ready in:

1

hr

45

min
Preheat oven to 170-180 C / Gas 3-4.

Slice beef 1 to 1.5 cm thick. Lay the slices in a single layer in an ovenproof dish. Top with onion and seasoning. Pour over the milk and cream, then top with grated cheese.

Bake for 1 1/2 hours in the preheated oven.
Tip
Instead of double cream and milk, you can use 250ml single cream.
Video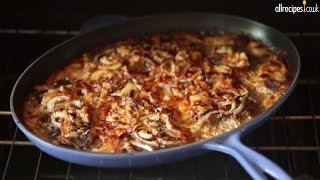 Russian baked beef
Reviews & ratings
Average global rating:
(16)
Reviews in English (1)
this is the easiest meal ever ! so tasty - the video makes you realize just how easy it is. So very delicious - had a table of 9 folk for dinner and all loved it from young to old. Hassle free ! - 24 Oct 2016 (Review from Allrecipes AU | NZ)
See reviews from:
Write a review
Click on stars to rate