!– Oracle Maxymiser Script Start --> <!– Oracle Maxymiser Script End -->
< />

< />
Chocolate Velvet Ice Cream
If you like dark chocolate and ice cream you'll love this recipe, which is reminiscent of frozen chocolate mousse.
Ingredients
Serves:
8
125g (4¼ oz) caster sugar

5 tablespoons good quality cocoa powder

3 egg yolks, beaten

600ml (1 pint) double cream

50g (2 oz) dark chocolate, finely grated
---
Method
Prep:

15

min

› Extra time:

2

hr

45

min

› Ready in:

3

hr
In large bowl, stir together sugar and cocoa. Add egg yolks and blend with electric mixer. Add cream a little at a time, beating well after each addition. Chill mixture in refrigerator.

While cream mixture is chilling, grate chocolate in food processor or using a box grater, until fine. Stir into cream mixture. Freeze in canister of ice cream maker according to manufacturer's instructions.
Note:
This recipe contains raw eggs. It is recommended that pregnant women, young children and the elderly do not consume raw eggs.


Video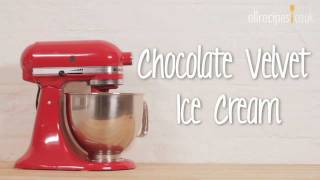 Chocolate velvet ice cream
Reviews & ratings
Average global rating:
(250)
Reviews in English (206)
Something else. This really is velvety and delicious--an excellent no cook custard-style ice cream. Be sure to beat your egg yolks for 1-2 minutes, until they are light and fluffy, before continuing with the recipe, which will help ensure the very best consistency of the ice cream. Knowing that using all double cream can result in a greasy mouth feel, I substituted half cream and half milk. To intensify the flavour I increased the cocoa by 2 tablespoons, added 1 tsp. vanilla and a pinch of salt. For the chocolate, I added small chunks of a good quality dark chocolate bar during the last minute or two of churning. Just perfect. - 15 Sep 2008
Made it healthier. I was looking for a fast ice cream recipe that didn't need to be cooked and could be converted to sugar free. This was wonderful. I used splenda instead of sugar and left out the chocolate. Superb!! - 15 Sep 2008
Used different ingredients. Like quickcooker I also used Splenda as I am on a low carb diet. 12.5g seemed to work fine. Lovely recipe. - 19 May 2009
See reviews from:
Write a review
Click on stars to rate