1

/

1
Picture by:
Allrecipes
Banana banana bread
Ingredients
Serves:
12
250g plain flour

1 teaspoon bicarbonate of soda

pinch salt

115g butter

115g dark brown soft sugar

2 eggs, beaten

500g mashed over-ripe bananas
---
Method
Prep:

15

min › Cook:

1

hr

5

min › Ready in:

1

hr

20

min
Preheat the oven to 180 C / Gas mark 4. Lightly grease a 23x13cm loaf tin.

In a large bowl, combine flour, bicarbonate of soda and salt.

In a separate bowl, cream together butter and brown sugar. Stir in eggs and mashed bananas until well blended. Stir banana mixture into flour mixture; stir just to moisten. Pour mxture into prepared loaf tin.

Bake in preheated oven for 60 to 65 minutes, until a knife inserted into centre of the loaf comes out clean. Leave to cool in tin for 10 minutes, then turn out onto a wire cooling rack.
Video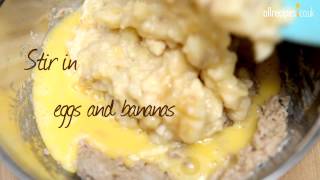 Banana banana bread
More choices
Similar recipes

Cake

More collections
Reviews
(135)
Something else. Just a comment more than anything else. When I slid the knife in to see if it was cooked, stuff still stuck to it. It was really brown on the outside so I was concerned about putting it back in. When I thought about it, it was the banana sticking to the knife. I know that might sound really obvious but at first I thought "why is it not cooked", You may all be much cleverer than me but though it worth mentioning just in case . - 12 Jan 2011
Something else. I used a 4x3=12 muffin tin (size 35cm by 27cm), fill muffin cups half way and bake for 20 minutes. You can get two batches (ie 24 muffins) this way. For Fan-Assisted ovens, set the temperature to 150C. The higher temps means the outside bakes too fast and leaves the inside raw. At 150C, the outside doesn't bake too fast for the inside to catch up. - 13 Feb 2011
I make Banana Bread fairly frequently, so really just wanted to see what ratios were recommended. This recipe makes for a surprisingly light Banana Bread, which I have to say makes a nice change. Like most recipes, the cooking time is over-estimated here, it usually only takes 45 minutes (and if you're using a toaster oven, remember to keep turning it or it ends up very uneven) - 08 Mar 2012
Write a review
What did you think? Tell us everything!