1

/

1
Picture by:
Allrecipes
Lemon tart
Ingredients
Serves:
12
For the pastry

75g (3 oz) butter

4 tablespoons icing sugar

125g (4¼ oz) plain flour
For the lemon filling

3 eggs

200g (7 oz) caster sugar

1 tablespoon lemon zest

4 tablespoons lemon juice

3 tablespoons plain flour

2 tablespoons icing sugar for dusting
---
Method
Prep:

15

min › Cook:

35

min › Ready in:

50

min
Preheat oven to 180 C / Gas mark 4.

Process butter, 4 tablespoons icing sugar and 125g flour in food processor 10 seconds, or blend with pastry blender. Pat dough evenly into 23cm tart tin.

Bake 12 to 15 minutes, until golden.

Meanwhile, combine eggs, caster sugar, lemon zest, lemon juice and 3 tablespoons flour and mix until smooth; pour mixture over hot pastry case.

Bake 15 to 20 minutes more, until firm. Let cool completely in tin. Dust with icing sugar and cut into 12 slices.
Video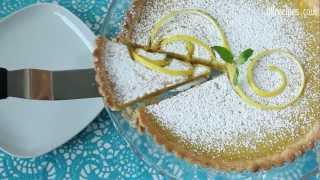 Lemon tart
More choices
Similar recipes

Dessert

More collections
Reviews
(25)
by MMENYART
Something else. Instead of one large dish, i poured the mixture into a bunch of small tart shells - it turned out wonderfully! - 15 Sep 2008
Altered ingredient amounts. Instead of pastry base try chocolate biscuit base. 200g of chocolate digestives (milk or dark) 110 g of melted butter (recipes always say unsalted but personally I like the slightly salted taste with chocolate especially when having with a tart flavour) Break biscuits into crumb (in blender or in a plastic bag and bash with rolling pin) add butter and press into bottem and up the sides of 23cm tart tin, bake for 8 mins in oven at 180oC gas mark 4, add filling as in recipe. A nice alternative for chocolate lovers - 20 Nov 2010
quick and easy to follow instructions. It says serve 6, but I ate half of it unfortunately. - 29 Aug 2010
Write a review
What did you think? Tell us everything!