1

/

1
Picture by:
INGRIDEVOGEL
Chocolate ganache
Ingredients
Serves:
16
250g good quality dark chocolate, chopped

235ml double cream

1 tablespoon dark rum (optional)
---
Method
Prep:

10

min › Cook:

10

min › Ready in:

20

min
Place the chocolate into a medium bowl. Heat the cream in a small saucepan over medium heat. Bring just to the boil, watching very carefully because if it boils for a few seconds, it will boil out of the pot. When the cream has come to the boil, pour over the chopped chocolate, and whisk until smooth. Stir in the rum if desired.

Allow the ganache to cool slightly before pouring over a cake. Start at the centre of the cake and work outward. For a fluffy frosting or chocolate filling, allow it to cool until thick, then whip with a whisk until light and fluffy.
Video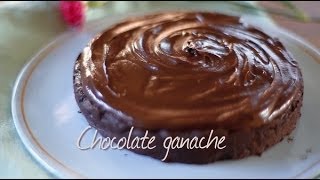 Watch our how to make chocolate ganache video
More choices
Similar recipes

Cake

More collections
Reviews
(10)
Quick and easy to make, I left out the dark rum, not by choice but simply because I forgot to add it!!! Even so it still turned out totally decadent. Will certainly be using this recipe again. - 07 Feb 2010
simple to make and very yummy, i used half milk chocolate so it wasnt too sweet for the children and it turned out really well - 18 Jun 2012
Made this to go on my partners Birthday cake. So easy to make looks fab and tastes amazing. - 22 Sep 2012
Write a review
What did you think? Tell us everything!