1

/

1
Picture by:
Maggie Pannell
Baked stuffed courgettes
Ingredients
Serves:
4
4 large courgettes, about 230g each

150g long-grain rice

2 firm tomatoes, seeded and chopped

1 egg, lightly beaten

2 tbsp chopped fresh mint (optional)

375g lean minced lamb
1 onion, chopped

2 garlic cloves, crushed

250g passata or a lightly diluted tomato sauce

1 tsp chopped fresh rosemary or 1/2 tsp dried

4 tbsp freshly grated Parmesan

salt and freshly ground black pepper
---
Method
Prep:

45

min › Cook:

20

min › Ready in:

1

hr

5

min
Preheat the oven to 190°C (gas 5). Cut each courgette in half lengthways and scoop out the pulpy centre with a teaspoon, leaving an outside shell, 1cm thick. Reserve the pulp, and chop lightly.

Place the courgettes in a shallow baking dish or roasting tin, cover with foil and bake for 20 minutes or until tender – they should pierce easily with a fork.

Meanwhile, cook the rice in a pan of lightly salted boiling water for 12–15 minutes until just tender. Drain, allow to stand for 5 minutes, then add the chopped plum tomatoes, egg, mint, if using, and pepper to season. Set aside.

Fry the lamb over a medium heat for 5 minutes or until browned. Add the onion and garlic, cook for a further 5 minutes until the onion has softened. Stir in the passata, reserved courgette pulp and rosemary. Bring to the boil, then reduce the heat and simmer gently for 10–15 minutes. Stir in the rice mixture and mix together.

Spoon the stuffing mixture into the courgette 'boats' and sprinkle with Parmesan. Bake for 15–20 minutes until golden and crispy on top. Serve immediately.
COOK SMART
You could use this filling to stuff other scooped-out vegetables such as aubergines, peppers or large beef tomatoes.


Video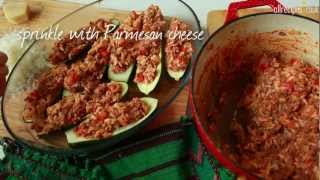 Baked stuffed courgettes
More choices
Similar recipes

Lamb

More collections
Reviews
(8)
Used different ingredients. Brilliant recipe this! I had beef mince to use up and thought I would try it in place of lamb. I followed the recipe to the letter apart from (obviously) removing the addition of mint and replacing rosemary with an equivalent quantity of thyme. My wife is away on business at the moment and my kids demand good food. This went down fantastically well from when I got them to taste the filling for flavour/saltiness to the final presentation on the table. What was supposed to be a Monday evening family meal turned out to be a real gourmet feast. Thank you and we do look forward to trying the lamb version. P.S. The recipe stipulates 2 cloves of garlic. Don't skimp on this as this is an integral part of this really lovely dish. Also don't panic if you find that you have to cook any part of the recipe longer than stated, it will be perfect in the end! - 09 Nov 2009
Something else. Added an Oxo cube to the mince mixture + to save time used a microwaveable pouch of rice. - 04 Aug 2010
This was really tasty. I used a giant courgette so had to bake it longer initially but the result was fantastic. Very impressive and my family loved it. I have leftover stuffing so just bought a couple of aubergines to stuff! - 21 Jul 2011
Write a review
What did you think? Tell us everything!