Buttercream icing
Ingredients
Serves:
20
250g butter, softened

1 teaspoon vanilla extract

600g icing sugar

2 tablespoons milk
---
Method
Prep:

10

min › Extra time:

5

min › Ready in:

15

min
In a large bowl, cream together the butter and vanilla. Blend in the sugar, a quarter at a time, beating well after each addition. Beat in the milk, and continue mixing until light and fluffy. Keep icing covered until ready to decorate.
Video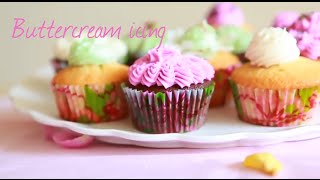 Buttercream icing
More choices
Similar recipes

Cake

More collections
Reviews
(27)
Good basic buttercream recipe, but careful with how much you make - I halved the recipe and still had a fair bit left over after icing a whole sandwich cake. - 24 Oct 2011
This is a great recipe to have. I used it to ice cupcakes. However add the icing sugar gradually as you might not want to add as much as it says. I used 450g instead and it was sweet enough! - 10 Feb 2011
very easy and lovely buttercream, worked a treat on delicious cupckaes. - 15 Nov 2011
Write a review
What did you think? Tell us everything!