1

/

1
Picture by:
Allrecipes
Pancakes for Pancake Tuesday
Ita
County Antrim, Northern Ireland, UK
Ingredients
Serves:
6
250 g plain flour

1/4 teaspoon of salt

2 large eggs

500 ml milk

Knob of butter for frying

Caster sugar (for sprinkling)

Fresh lemon (for squeezing)
---
Method
Prep:

5

min › Cook:

15

min › Ready in:

20

min
Sift the flour and salt into a mixing bowl.

Break the eggs into a bowl and then add to flour.

Pour in half of the milk and whisk briskly.

Add the remaining milk and whisk until the batter is smooth.

Heat an 8 inch pan over a low heat. Add a small knob of butter and swirl the pan to coat the bottom.

Use a ladel to spoon the pancake batter into the pan, then tilt the pan to spread the mixture out evenly.

As it sets, shake the pan to see if the pancake is loose, then flip it over with a palette knife. Cook the other side for 30 seconds -then shake again to see if it's loose.

Slide onto a warm plate, sprinkle over some sugar and a squeeze of lemon juice - then eat immediately!

Cook the rest of the pancakes, one at a time but remember to melt a small knob of butter before adding the batter.
Pancake how-to
Forget flops with our collection of Pancake videos! We'll show you how to make everything from traditional pancakes to savoury crepes, and more. Watch now!


Video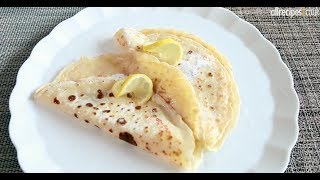 How to make pancakes
More choices
Similar recipes

More collections
Reviews
(29)
i have always made pancakes but thisis the best I've made Thankyou - 28 Mar 2013
Something else. Add a splash of rum - or any liqueur you find in the back of the cupboard. - 16 Feb 2010
simple and tasty - 24 Mar 2013
Write a review
What did you think? Tell us everything!