!– Oracle Maxymiser Script Start --> <!– Oracle Maxymiser Script End -->
< />

< />

< />

< />

< />

< />

< />

< />

< />

< />

< />

< />

< />

< />

< />

< />

< />

< />

< />

< />

< />

< />

< />
Roasted garlic lemon broccoli
I was looking for a unique way to prepare broccoli and decided to give this a try! Florets are roasted after being tossed in olive oil and sprinkled with sea salt, freshly ground black pepper and minced garlic. A squeeze of lemon juice before serving seals the deal.
Ingredients
Serves:
6
2 heads broccoli, separated into florets

2 teaspoons extra-virgin olive oil

1 teaspoon sea salt

1/2 teaspoon ground black pepper

1 clove garlic, minced

1/2 teaspoon lemon juice
---
Method
Prep:

10

min

› Cook:

15

min

› Ready in:

25

min
Preheat the oven to 200 C / Gas mark 6.

In a large bowl, toss broccoli florets with the extra virgin olive oil, sea salt, pepper and garlic. Spread the broccoli out in an even layer on a baking tray.

Roast in the preheated oven until florets are tender enough to pierce the stems with a fork, 15 to 20 minutes. Remove and transfer to a serving platter. Squeeze lemon juice liberally over the broccoli before serving for a refreshing, tangy finish.
Flavour tip
Add a pinch or two of red chilli flakes before roasting for a bit of heat.
Video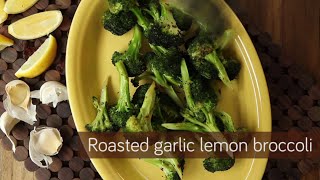 Roasted garlic lemon broccoli
Reviews & ratings
Average global rating:
(1296)
Reviews in English (833)
To me broccoli is pretty boring, but this recipe is my new favourite snack food. Amazing. - 08 Nov 2016
Delicious! Here's a thought for all the negative-nancy types though...If you don't like salt, lemon or garlic--hmmm. Maybe don't TRY a GARLIC LEMON SEA SALT dish?? Just sayin'! ;o) - 09 Nov 2010 (Review from Allrecipes US | Canada)
A subjective matter perhaps, but while hubby and I both love broccoli and eat it often, this was just unpleasant. Bitter and an unappealing color due to roasting, this basically just made our house smell strongly of broccoli. Very disappointing--maybe we just bought a bad bunch of broccoli. - 08 Nov 2008 (Review from Allrecipes US | Canada)
See reviews from:
Write a review
Click on stars to rate