1

/

1
Picture by:
Allrecipes
No-bake chocolate cheesecake
Ingredients
Serves:
6
150g (5 oz) digestive biscuits

45g (1 1/2 oz) butter

110g (4 oz) caster sugar, divided

120ml whipping cream

150g (5 oz) dark chocolate, melted and cooled

2 tablespoons cocoa powder mixed with a little hot water

1 (200g) tub cream cheese
---
Method
Prep:

2

hr › Ready in:

2

hr
Crush the digestive biscuits and mix with the melted butter and 1 tablespoon of the caster sugar. Press into a 18cm (7 in) cake tin and refrigerate.

Whip cream until soft peak stage. Add cooled melted chocolate, then the cocoa powder mix. Blend well and set aside.

Beat the cream cheese and remaining sugar together. Fold in cream/chocolate mixture and mix thoroughly.

Spread into tin on top of crushed biscuits. Freeze for one hour.

Refrigerate for about 30 minutes, then serve.
Video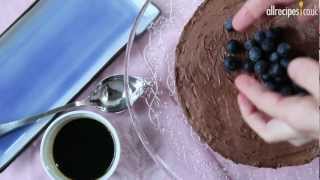 No-bake chocolate cheesecake
More choices
Similar recipes

Cake

More collections
Reviews
(116)
Something else. I added cocoa powder and a little extra suger to the biscuit base to make the base chocolate flavoured as well. - 30 Nov 2008
Used different ingredients. i used chocolate chip cookies instead of digestives, keeps the chocolate theme going all the way thru the cheesecake. chocolate fiend or what?!! - 16 Dec 2008
I have been messing around with this recipe and am now at the point where I do the following: Crush 12 lotus carmelised biscuits and add 30g of melted butter. Divide between 4 x 200ml glasses and pack down with the end of a rolling pin. Whip 250ml of cream, add 200g of philadelphia cream cheese, 4 tablespoons of icing sugar and 150g of 70-80% dark chocolate. Put the chocolate mix into a piping bag and pipe into the glasses on top of the biscuit. Leave in the fridge to set. Take out a while before eating to allow it to warm up and you can appreciate the delicious chocolatey flavour more Thanks so much for sharing this recipe... it is just so damned good! - 09 Jul 2012
Write a review
What did you think? Tell us everything!