Baked sweet potato wedges
Ingredients
Serves:
4
1 tablespoon olive oil

1/2 teaspoon paprika

6 to 8 sweet potatoes, sliced lengthwise into quarters
---
Method
Prep:

5

min › Cook:

40

min › Ready in:

45

min
Preheat oven to 200 C / Gas mark 6. Lightly grease a baking tray, or line with baking parchment.

In a large bowl, mix olive oil and paprika. Add sweet potato, and toss to coat. Place on the prepared baking tray.

Bake 40 minutes in preheated oven. Best eaten at room temperature.
Video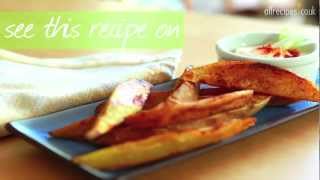 Baked sweet potato wedges
More choices
Similar recipes

Vegetarian

More collections
Reviews
(25)
Used different ingredients. I didn't have the all spice but made my own mix of cinnamon, clove, paprika, coriander, cayenne pepper & Nutmeg. Best sweet potato I've ever eaten! Only thing is I expected the wedges to come out like potato wedges: crispy. These were soft but hardened slightly when they warmed up. So delicious that it didn't matter though. - 08 Oct 2010
Altered ingredient amounts. For the amount of wedges that i had made there was not enough oil and paprika mix,i had 2 repeat the process 2 or 3 times to coat 'all' of them!So i will use at least 4 tbsps of oil next time and '4' 1/2 tsps of paprika! - 31 Mar 2010
Write a review
What did you think? Tell us everything!