Ingredients
Makes:
1

(7 in) Victoria sponge cake
3 eggs

150g (6 oz) self raising flour

150g (6 oz) caster sugar

150g (6 oz) butter or margarine

1/2 teaspoon vanilla extract

jam to sandwich the cake
For the buttercream

100g (4 oz) icing sugar

50g (2 oz) butter

1/2 teaspoon of vanilla extract
---
Method
Prep:

30

min › Cook:

35

min › Ready in:

1

hr

5

min
Preheat the oven to 170 C / Gas 3. Place the shelf in the centre of the oven. Grease and line two 18cm (7 in) sandwich tins with baking parchment.

Weigh the three eggs. Note the weight and measure the same amount of sugar, flour and butter. (See footnote.)

Sieve the flour into a bowl and add the sugar, butter or margarine and vanilla. Crack in the eggs and beat well with a wooden spoon or mixer, until the mixture is light coloured and fluffy. Divide the cake mixture between the tins and smooth the tops.

Bake for 30 to 40 minutes or until golden brown. Cool for 5 minutes in the tins, then turn out onto a wire rack to cool completely.

To make the buttercream, sieve the sugar into a bowl, add the butter and vanilla and beat well.

To sandwich the cakes together: Add a layer of jam to the top of one of the sponges, followed by a layer of cream on top of the jam, finish by placing the last of the sponges on top. Dust with a layer of icing sugar if desired.
Tips
I always use margarine, butter is too heavy. Eggs can vary a lot in size, for perfect results weigh the 3 eggs. This will more than likely weigh over or under 150g (6 oz). For example, if the eggs weigh 175g you would use 175g each of the flour, sugar and margarine.


Video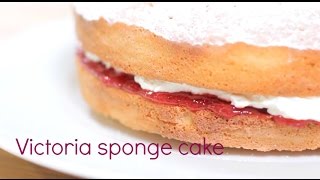 Traditional Victoria sponge
More choices
Similar recipes

Cake

More collections
Reviews
(51)
I just made this sponge but mine has not risen very much and had bubbles on the top what did i do wrong please. - 15 Dec 2011
Can someone help me out? Im going to make this for my sisters birthday soon and i have a question, if i don't have self-raising flour could i use all-purposed flour and like a teaspoon of baking powder? Or 1\2 a teaspoon? someone please reply! thanks! - 29 Nov 2012
I used this recipe for an entry for my local Horticultural Society Annual Show at the weekend. I dusted it with caster sugar instead of icing sugar and filled it with a good quality raspberry jam (as per WI standards). Pleasingly I attained a FIRST place for it, so thank you very much for this lovely recipe. This week I am going to make another one to fill with homemade blueberry jam. - 20 Aug 2012
Write a review
What did you think? Tell us everything!