1

/

1
Picture by:
Allrecipes
Microwave brownies
kcm
Salto, Uruguay
Ingredients
Makes:
16

brownies
150g butter

65g unsweetened cocoa powder

200g sugar

2 eggs

1 teaspoon vanilla extract

100g plain flour
---
Method
Prep:

5

min › Cook:

5

min › Extra time:

10

min cooling › Ready in:

20

min
Melt the butter in high for about 30 to 40 seconds. Add the sugar, cocoa and vanilla in that order and mix well.

Add the eggs, slightly whipping after each one. Add the flour and mix well.

Grease a microwave safe dish and spoon in the brownie mixture. Cook on high for 4 to 5 minutes (the more powerful your microwave the less time it takes). Let rest for 10 minutes before cutting.
Tip
When you take the brownies from the oven the centre will look undone, but it keeps cooking when resting. And if you leave them overnight in the fridge, the next day they will be even more consistent.
Substitution
This recipe also works well with 3 eggs, 100g butter, 65g to 125g of flour, 45g to 65g cocoa. So, don't worry if you don't have enough of any of the ingredients, but make sure not to change more than one amount at a time!
Other ideas
You can also stir in 120g of nuts, or 60g of nuts and 80g chocolate chips, or only chocolate chips! Or you can sprinkle some chopped nuts or pistachio nuts (tastes great!) on top before microwaving.


Video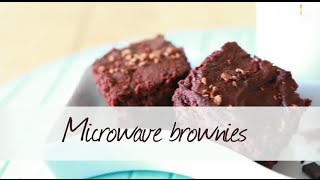 Microwave brownies
More choices
Similar recipes

Cake

More collections
Reviews
(61)
Altered ingredient amounts. i never thought that brownies made in a microwave can turn out to be such perfect consistency - just the way i like them! and so easy to make! i'm gonna be making it again and again! oh, and i only used half the amount of flour - 50g. - 25 Apr 2011
Altered ingredient amounts. I find that 25g of flour instead of 100g makes perfectly moist and gooey brownies, cooked for 4 minutes in a 700W microwave. Yum! - 30 Mar 2011
delicous brownies! really soft and gooey just the way they should be! i added choco chips also! will defiantly make again! - 14 Jun 2011
Write a review
What did you think? Tell us everything!