1

/

1
Picture by:
Allrecipes
Best apple crumble ever
Ingredients
Serves:
6
4 apples - peeled, cored and sliced

100g (3 oz) dark brown soft sugar

125g (4 oz) plain flour

150g (5 oz) caster sugar

1 teaspoon ground cinnamon

1/4 teaspoon salt

1 egg, beaten

2 tablespoons butter, melted
---
Method
Prep:

15

min › Cook:

35

min › Ready in:

50

min
Preheat oven to 190 C / Gas mark 5.

In a 23cm (9 in) square baking dish, mix sliced apples with brown sugar. In a large bowl, mix together flour, caster sugar, cinnamon and salt. In a small bowl, beat together egg and melted butter. Stir into flour mixture. Spread evenly over apples.

Bake in preheated oven for 30 to 40 minutes, or until topping is golden and crisp.
Video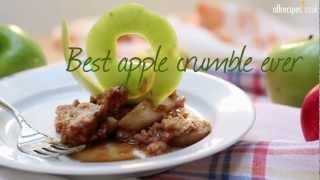 Best apple crumble ever
More choices
Similar recipes

Dessert

More collections
Reviews
(18)
Used different ingredients. I added a bit of water to the apples as I like it saucy. - 07 Aug 2008
Sorry but I have to agree with some of the previous comments. This was WAY too sweet! I would recommend you half the amount of brown sugar in the apples and use only 100g of caster sugar in the topping. I wasnt too sure about the topping as most of the reviews were 'for' it I gave it a go and I have to say i'd rather have a proper crumble. Perhaps if it hadn't been too sweet it may have been more of a hit. Even my hubby didnt eat it and he loves apple pie/crumble and will usually eat anything that I cook! Cooked on 140C in a fan oven (160 conventional) for 40 minutes and it was cooked perfectly, apples were lovely and soft, just too sweet! Will not make again though - 28 Aug 2011
I had already prepared my apple so just used this recipe for the topping.....it tasted great BUT if I wanted apple with cake on top I would hav searched for just that, it was not a crumble AT ALL but my hubby did hav a second helping so not all bad I guess..... - 07 Nov 2011
Write a review
What did you think? Tell us everything!